Upper Middle Rhine Valley World Heritage
Beautiful scenery – historical past - mystical magic
For thousands of years the Rhine river was the most important transport route between the southern Mediterranean region and the north. Mighty fortresses, castles and palaces were built to protect these trade routes. Countless legends wrap themselves around these proud ruins and recount the adventures of an often violent past. This lends a mystical magic to the Middle Rhine Valley that has fascinated countless visitors for centuries.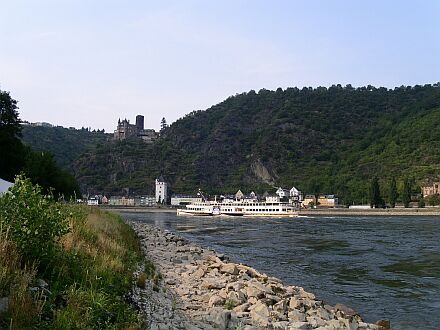 Source: Elke Greiff-Gossen
The rescue of a cultural landscape
The Rhine Valley probably would have lost much of its incomparable attraction if it hadn't fallen to Prussia in 1815. The Prussian restoration was, in fact, a political regression for the population but, for the countryside and cultural monuments, this meant rescue before its ruin. Today, the cultural landscape rises to the challenge faced by 21st century development without forgetting its roots. There is hardly any other countryside which offers that many castles, palaces and ruins as monuments to its history.
The acceptance of the romantic Rhine Valley to the World Heritage was proposed in one of the committee's first meetings in 1973. On June 28, 2002, nearly 30 years after this first proposal, the UNESCO accepted, to the list of the World Heritage, the Middle Rhine Valley as a continuing cultural landscape. This shows not only acceptance and appreciation of the landscape, with its natural and cultural beauty, but also issues a challenge to the future shaping of this incomparable, multi-faceted countryside. The changing and often conflicting history of the castles on the Rhine river and their many uses have stamped the Rhine countryside with destruction, reconstruction and development.
A trip through the Upper Middle Rhine Valley World Heritage
There are charming towns, castles and palaces on the Rhine's path through the slate rocks which are all worthy of a visit. Take a trip through time to the world of the nobleman and robber-knight, the farmer, handcrafter and trader. Let yourself be captured by the magic and romance of the Middle Rhine World Heritage with its myths and legends. Enjoy old traditions at historical markets, castle festivals and knight tournaments.
Along the route there are first-class hotels, guest houses and restaurants, whose speciality is making your stay in the beautiful Rhine Valley as pleasant as possible.
The castles and ruins on the Rhine river are also evidence of a changing cultural understanding. Originally preserved and unmodified castles in the World Heritage such as the Marksburg and the Pfalzgrafenstein, stand beside ruins such as the Fürstenberg, Ehrenfels and Rheinfels, and carefully restored castles such as the Sterrenberg, Stahleck or Schönburg.
Further, romantic 19th century renovations such as the Rheinstein, Castle Katz, Sooneck and particularly Stolzenfels tell the visitor that the castles and ruins in the Upper Middle Rhine Valley World Heritage have always provoked the imagination of the people and seduced them to new dimensions of design and composition.
Every castle in the World Heritage has its own story.
Source: Mittelrheinforum
Current Loreley
Loreley guided tours
Tour "Enchanting Loreley"
Tour "Enchanting Loreley" including nature hike and wine tasting
Registration Loreley Tours
Fon: +49 (0) 6774 – 745
Fax: +49 (0) 6774 – 8174Mail: info@tempus-rhenus.de
Deutschland Germany information
Rhein river information
Loreley Info now mobile