Deutschland - Germany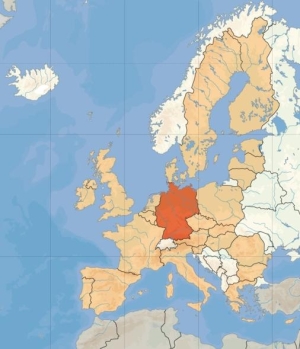 Deutschland - Germany in Europe © David Liuzzo
Germany in Europe
Deutschland - Germany with its capital Berlin is situated inwardly of Europe. Germany is charter member of the European Union. Germany has 82 Mio. inhabitants, therefore it is the most populous country of the European Union.
The neighbours of Germany are:
Denmark
Poland
Czech Republic
Austria
Switzerland
France
Luxembourg
Belgium
Netherlands
The Federal States of Deutschland - Germany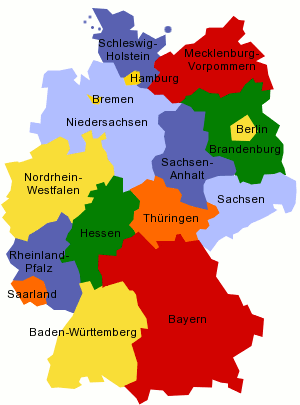 Federal States of Germany © David Liuzzo
Germany is composed of 16 Federal States:
Berlin


Baden-Württemberg
Bayern
Brandenburg
Bremen
Hamburg
Hessen
Mecklenburg-Vorpommern
Niedersachsen
Nordrhein-Westfalen
Rheinland-Pfalz
Saarland
Sachsen
Sachsen-Anhalt
Schleswig-Holstein
Thüringen
Rhein
The Rhine river is the biggest and busiest river in Deutschland - Germany. It flows through the Federal States of Baden-Württemberg, Hessen, Rheinland-Pfalz and Nordrhein-Westfalen.
Loreley
One of the world-famous sights in Deutschland - Germany is the Loreley, located in the Federal State of Rheinland-Pfalz.
Upper Middle Rhine Valley
The World Heritage site Upper Middle Rhine Valley is part of the Federal States of Rheinland-Pfalz and Hessen.