Sankt Goarshausen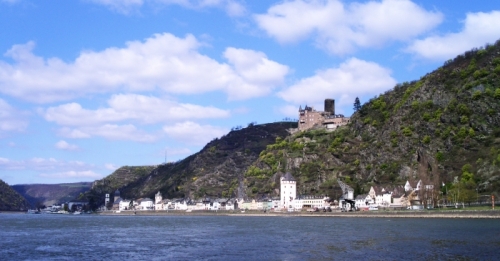 Source: Elke Greiff-Gossen
We look forward to welcoming you in Sankt Goarshausen
Sankt Goarshausen is centrally located not far from the legendary Loreley rock.
The city is connected to its sister city Sankt Goar by the Loreley ferry, so that various possibilities are offered here for an active and recreational holiday in the Upper Middle Rhine Valley World Heritage.
The old part of the town with the two historical city towers and the remainders of the old defence wall is particularly idyllic. In the immediate vicinity of the small town the castles Katz (Cat) and Maus (Mouse) glance down proudly at the Rhine.
Sankt Goarshausen is an ideal starting point for the king's stage of the Rheinsteig (Rhine steep path), but also for trekking tours on the Rhein Burgen Wanderweg.
Within walking distance you find the "Loreley open air theatre", that offers events in a wonderful atmosphere all the year round, as well as the Loreley Visitors' Centre, that represents the Middle Rhine Valley.
The highlight of the year is the spectacular display of fireworks called The Rhine in Flames with a week-long wine festival in the old part of Sankt Goarshausen.
An experience of the special kind is the journey with the nostalgic shovel wheel steamboat Goethe from Sankt Goarshausen to Rüdesheim or Koblenz.
History
First traces of settlement originate from the 6th Century, when the holy Goar settled down on the opposite bank of the river Rhine. In 1284 Sankt Goarshausen was assigned as fiefdom of Trier to the counts of "Katzenelnbogen". Already in 1324 Sankt Goarshausen received its town rights from king Ludwig the Bavarian. Around the same time the town was protected by building a city wall and two city towers, existing still today. Not until 1393 the castle Katz (Cat), that thrones above Sankt Goarshausen, was built by the count Wilhelm II of Katzenelnbogen. It was used as bastion and military base for the reinforcement of the Rheinfels Castle. Together they erected a bulwark fortification with a push bar for levying the Rhine toll. Rhine toll and salmon fishing helped the counts of Katzenelnbogen to extensive wealth.
Impressions
| | | | | | | | | |
| --- | --- | --- | --- | --- | --- | --- | --- | --- |
| Old city | | Round city tower | | Am Plan | | Square city tower | | Old city hall |
Loreley up-to-date
Häuser Crane
The old harbour crane on rails on the quay in front of the city at the feet of castle Katz is one of the first and largest electrically operated jib cranes on the Rhine.
Bridge
St. Goarshausen - St. Goar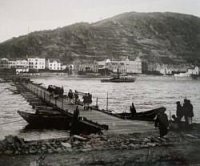 Source:
Archive Loreleycity St. Goarshausen
More historical pictures www.st-goarshausen.de.
Loreley Song
by Jasmin Hillgruber from Lübeck.
Please select the loudspeaker.
Deutschland Germany information
Rhein river information
Loreley Info now mobile