Lorchhausen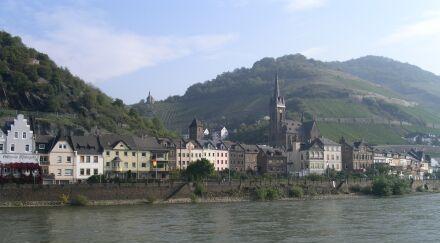 Source: Elke Greiff-Gossen
Lorchhausen is located in-between vine slopes. It is the west gate to the Rhinegau, the border location between Hessen and Rhineland-Palatinate. It is also the starting-point of the famous "Rheingau Riesling Route".
The viniculture city is rich in tradition. It was first noted in 1211 in a merchandise register from the Eberbach convent.
Well worth seeing is the parish church Bonifatius, built in neo-Gothic style. Also the chapel Clemens and the tower of the old church from the 16th century, which was part of the former city fortifications.
Lorchhausen is an ideal starting point for walking on the trails Rheinsteig and Rhein Burgen Wanderweg. Also for a walk to the nature reserve called "Engweger Kopf", well-known for its flora and fauna.
Current Loreley
Loreley guided tours
Tour "Enchanting Loreley"
Tour "Enchanting Loreley" including nature hike and wine tasting
Registration Loreley Tours
Fon: +49 (0) 6774 – 745
Fax: +49 (0) 6774 – 8174Mail: info@tempus-rhenus.de
Deutschland Germany information
Rhein river information
Loreley Info now mobile