Bad Salzig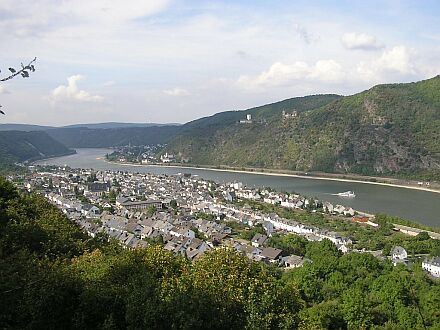 Source: Bad Salzig
Health and recreation with charm and flair
Embedded in the valley of the "Salzbornbach" Bad Salzig offers a wonderful view over the Rhine towards the castles Sterrenberg and Liebenstein, popularly called "the hostile brothers". A trip is worthwhile, especially in spring, when the numerous cherry gardens transform the whole valley into just one splendid sea of flowers. Due to its mild climate with an annual average temperature of 18° C, Bad Salzig is not only a preferential area for orchards, but also an ideal health resort.
The fact that Bad Salzig is known today, above all, as a mineral medicinal bath, is due to the initiative of a captain coming from East Prussia i.R. "Theodor Hoffmann", who initiated the bore of the "Barbaraquelle" and the "Leonorenquelle" in 1902 and 1905. Since then the healing water of a fizzy, alkaline-muratic Glauber's salt spring bubbles here up from a depth of 446 m (1463 feet). In 1925 Salzig was given the official title "Bad" (Bath) in its name.
Many patients find healing in the ultra-modern Middle Rhine Clinic with departments of gastroenterology, oncology and psychosomatics. The historical bath house with sauna and the thermal bath, fed with healing water, is of course also open to all other visitors. The clinic is surrounded by a vast park with a very old stock of trees and a natural ecologically invested pond, that invites visitors for a walk around. Here one finds rest, internal balance and relaxation. In this unique ambience different cultural events take place during the summer season.
Source: Boppard
Current Loreley
Loreley guided tours
Tour "Enchanting Loreley"
Tour "Enchanting Loreley" including nature hike and wine tasting
Registration Loreley Tours
Fon: +49 (0) 6774 – 745
Fax: +49 (0) 6774 – 8174Mail: info@tempus-rhenus.de
Deutschland Germany information
Rhein river information
Loreley Info now mobile